No deaths, 24 new cases of contamination and 34 cured were confirmed in the Kingdom on September 5 and 6, 2022, when over 6.76 million people received the third dose. Pandemic monitoring, in figures.
New cases of contamination, remissions, number of screenings performed, vaccinations, etc. To find out more about the evolution of the coronavirus in Morocco, click on this link: https://covid.le360.ma.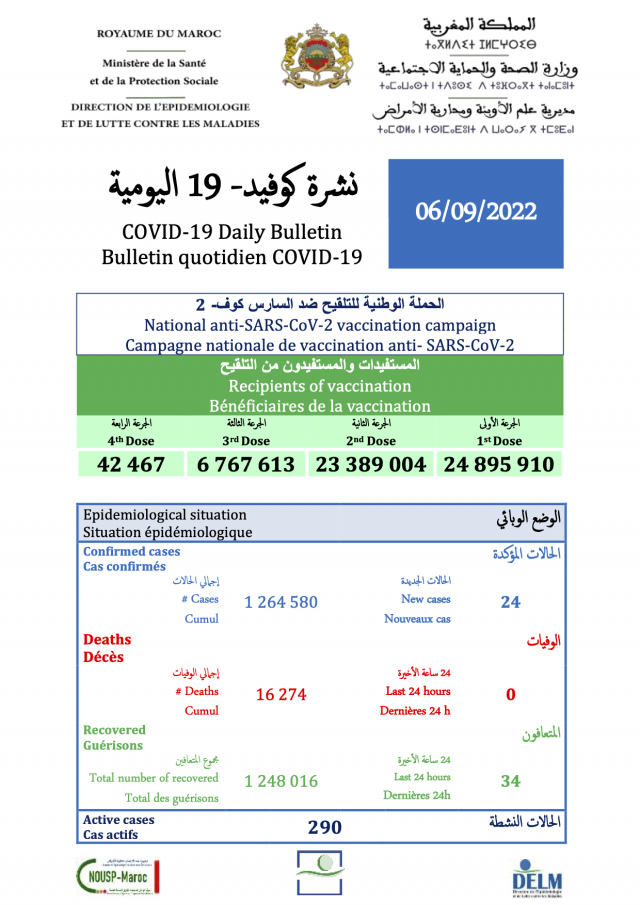 © Copyright: DR
In the Maghreb, Algeria does not report the number of screening tests, which suggests that the number of contaminations is much higher than official figures. The latest balance sheet reports 18 cases of contamination, no deaths and 21 recovered. The country has 270,443 cases of contamination, of which 6,879 died and 182,067 recovered.
In Tunisia, 1,036 cases of contamination, 8 deaths and 1,689 recovered were recorded, according to the latest weekly report available. The country has totaled 1,144,824 cases of contamination, including 29,238 deaths and 1,130,532 healed since March 2020.
A case of contamination has been recorded in Mauritania, according to the latest available report. The country recorded 62,771 cases of contamination, including 993 deaths.
In France, the high health authority, which on Monday was supposed to issue an opinion on vaccines against Omicron's sub-variants, is waiting for its European counterpart to decide on these vaccines.
The HAS announced in a press release posted on Monday September 5 on its website that it will issue its general opinion on these bivalent vaccines only in mid-September.
Thursday 1uh In September, the EMA, its European counterpart, had already authorized the messenger RNA vaccines developed by Moderna and Pfizer BioNTech that target (only) the Omicron sub-variant, BA.1.
The long form of Covid-19 keeps up to 4 million people out of work in the United States, with an estimated wage loss of at least $ 170 billion annually, a significant economic burden at a time when the cost of living is rising. drastically, revealed Forbes Friday 2 September, citing a report by Brookings.
The report was based on updated data from the Census Bureau's Household Pulse Survey released in June, which found that 16.3 million people, or about 8% of the US population of working age, currently suffer from a long form of Covid. -19.
Brookings confirmed these findings with a recent study by the Federal Reserve Bank of Minneapolis, which found that 24.1% of people who had contracted Covid-19 had symptoms for three months or more.
According to the US Centers for Disease Control and Prevention (CDC), about 70% of Americans have contracted Covid-19, a percentage that translates to 34 million working-age Americans with long-lasting Covid-19 symptoms.
A July 2021 study by Collaborative patient-driven research shows that only about 27% of patients with long-term Covid-19 worked long hours before getting sick, and that about 23% did not work at all, a direct consequence of the long form of the disease.
The pandemic has officially killed at least 6,496,833 people worldwide since the end of December 2019.
The United States is the country with the highest number of deaths (1,071,420), ahead of Brazil (684,029), India (527,911) and Russia (384,441).
The World Health Organization (WHO) estimates, taking into account the excess mortality directly and indirectly linked to Covid-19, that the pandemic toll could be two to three times higher than the officially established one.