In China, acupuncture is also … for cats and dogs
Tied up, a poodle watches with concern as a veterinarian sticks fine needles into his back and paws: Acupuncture for cats and dogs is attracting a growing number of masters to China.
>> The "patients" detail of the 89-year-old teacher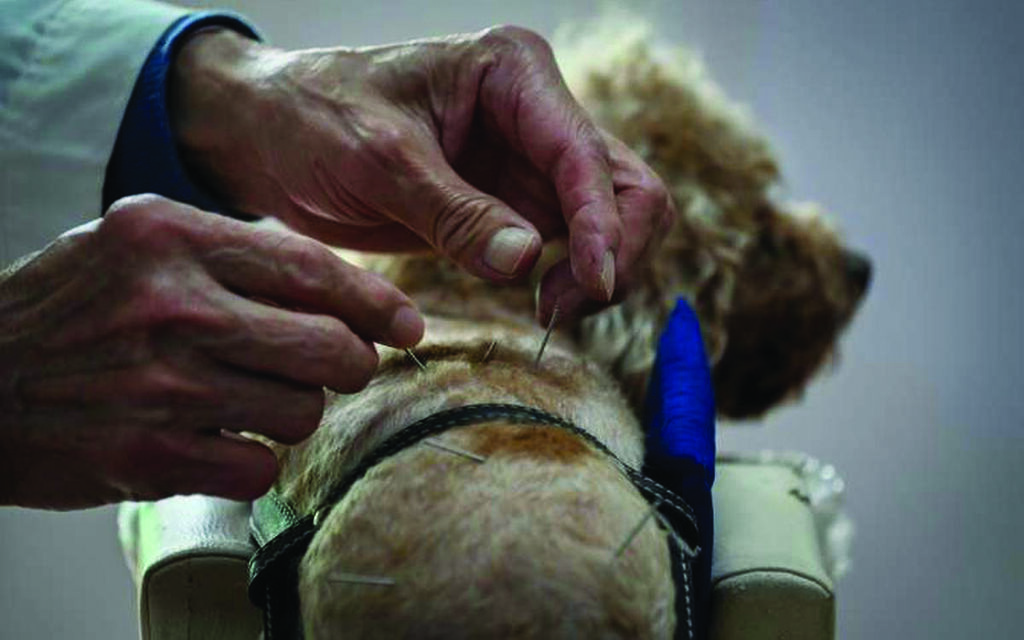 A dog in the middle of an acupuncture session at a veterinary clinic in Beijing.
Photo: AFP / VNA / CVN
Rabbits are also welcome at this traditional Chinese medicine practice in Beijing, which sees furry animals of different sizes parading from morning to night. Main motivation of the masters: to offer your pet a less invasive treatment with fewer side effects than conventional medicine. Even rabbits are welcome in this practice of traditional Chinese medicine in Beijing, which sees animals parading from morning to evening. sizes. Main motivation of the owners: to offer their pet a less invasive treatment with fewer side effects than conventional medicine.
"The advantage of traditional Chinese medicine is that there is no surgery. Thus the suffering and the convalescence of the animal are reduced "says Zhai Chunyu, 38, who came with Duniu, his toy poodle.
At the age of 3 he suffers from Legg-Calvé-Perthes disease, which affects the head and neck of the femur and leads to their collapse with osteoarthritis, pain and claudication. "He was in so much pain that he could no longer put his paw on the ground" And "had no appetite"says Mr. Zhai, who works in the financial sector. "A doctor advised me to remove this femoral head. But I didn't want to because I have another poodle who has been there and has suffered a lot from the operation and the after-effects ".
bamboo flute
A friend then advised him to try acupuncture in this practice, opened in 2016 by veterinarian Li Wen, 68. "After five or six sessions we have seen the results. Duniu can walk and even run a little now"welcomes its master.
To establish his diagnosis, the vet examines the corpulence of the animal, its eyes, the color of its tongue, detects its pulse and asks the owner questions. He then plants his needles in specific acupuncture points for dogs and cats.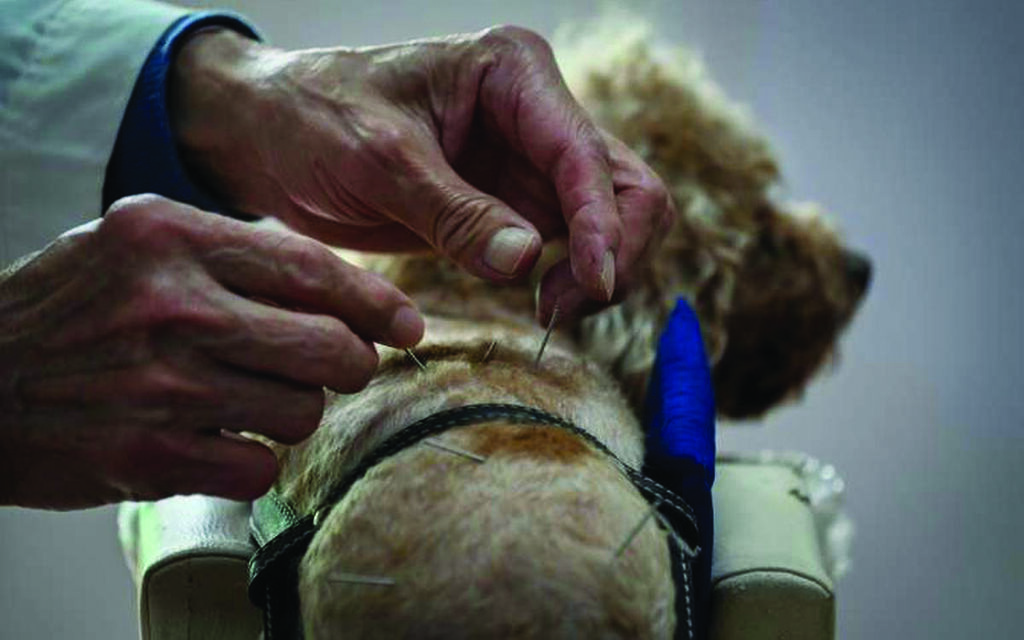 In a veterinary clinic in Beijing.
Photo: AFP / VNA / CVN
"Out of ten animals I receive on average every day, there are always one or two that rebelsays Li Wen, 46 in the industry. We must communicate with them, treat them delicately, reassure them that we are not here to harm them "..
To help them relax, it plays soft music of bamboo flute and chirping of birds.
As with humans, once the needles are inserted, the vet stimulates the points with a heating lamp in which discs of mugwort – a plant have been placed. This is called the "moxibustion".
It should allow, in addition to acupuncture, to reduce rheumatism, as well as muscle and joint pain. The vet mainly deals with cases of paralysis, limb weakness, epilepsy, pain and urinary retention.
Acupuncture can also be used when no other treatments are available. As for Xiaomei, a 12-year-old male Labrador with nerve compression in his lower back and a parrot's beak with only one bone.
"Last September, after swimming, he could not get back on his feet. A veterinarian then told us that it was impossible to cure him and that he would be paralyzed"informs his mistress Ma Li, 41. "Thanks to acupuncture he still has difficulty but can walk normally and even run"she welcomes.
Average session price: 360 to 390 yuan (52 to 57 euros) depending on the package, which remains acceptable for most Beijing masters.
Cows and chickens
"The first time he was afraid and lasted for five minutes"assures Yang Lihua, a 65-year-old retired woman who arrived with Niannian, her Pekingese suffering from a slipped disc. "Now he loves it! After the session he is so relaxed that he sleeps in the car on his way home".
Acupuncture for animals in China is about six centuries old, according to Professor Li. It was initially used for cows, sheep, horses, rabbits and chickens. Its application for cats and dogs is more recent. "Traditional Chinese medicine is not intended to replace conventional medicine" Why "both have their strengths" and I'm "complementary"Professor Li points out.
The market for animal acupuncture remains limited at the moment. "But since 2016 it has been gaining popularity, says Professor Li. As education, living conditions and income increase, more and more people are realizing the benefits of this medicine. ".
Next door, Ms. Ma's giant Labrador jumped into the back seat of her mistress's car after her session, looking happy and tongue out. "Doesn't he look happy?"she smiles.
AFP / VNA / CVN